Okay. Let me explain the title! Stydol just means Style Idol. I simply combined the two.
Now that we have settled that, I would like to introduce you to my Stydols! I have 2. Just 2. Totally opposite! One day, I may feel super girly! The next, I may feel very rocker-ish, or like a tomboy. Hmm, Who are they?
Who do you think it is?
*drum roll*
Yep! Rihanna. I mean, everyone knows I'm obsessed with her style! She is so beautiful and remarkable at her career. I look up to her! Most of the things she wears I get inspired to find for myself! I also have red hair so I try to not look like I'm mocking her but I do sample some things she wears. When I am feeling a bit edgy, I tend to channel my inner Rihanna. Can you blame me? She is fierce! Everything she wears I LOVE!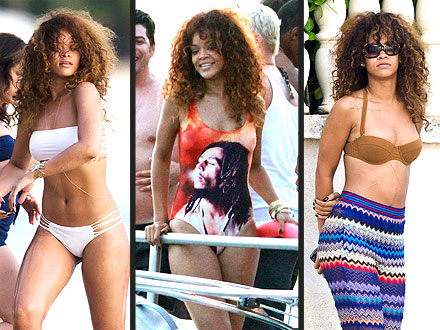 I just love her! She is so brave with her fashion choices. Not to mention, she is always being different! Her hair always changes, her style, her beauty! But one thing remains the same. She will always be my Stydol!
Okay now you know my edgy inspiration. Let me introduce you to my girly insides!
*drum roll*
Taylor Swift! How can you not love her?! She is beautiful, fun, and a great person. I wish I could meet her! One day I plan to.
Anyhoo, I love her style because it is super girly and fashionable. I love her music and when I listen to it, I picture outfits that go with it. It seems like her style is a reflection of her fun, upbeat songs. Maybe that's how I look at it. But there is no doubt she is bomb!
For more Rihanna,
click here!
For more Taylor Swift
click here!
-Curvy